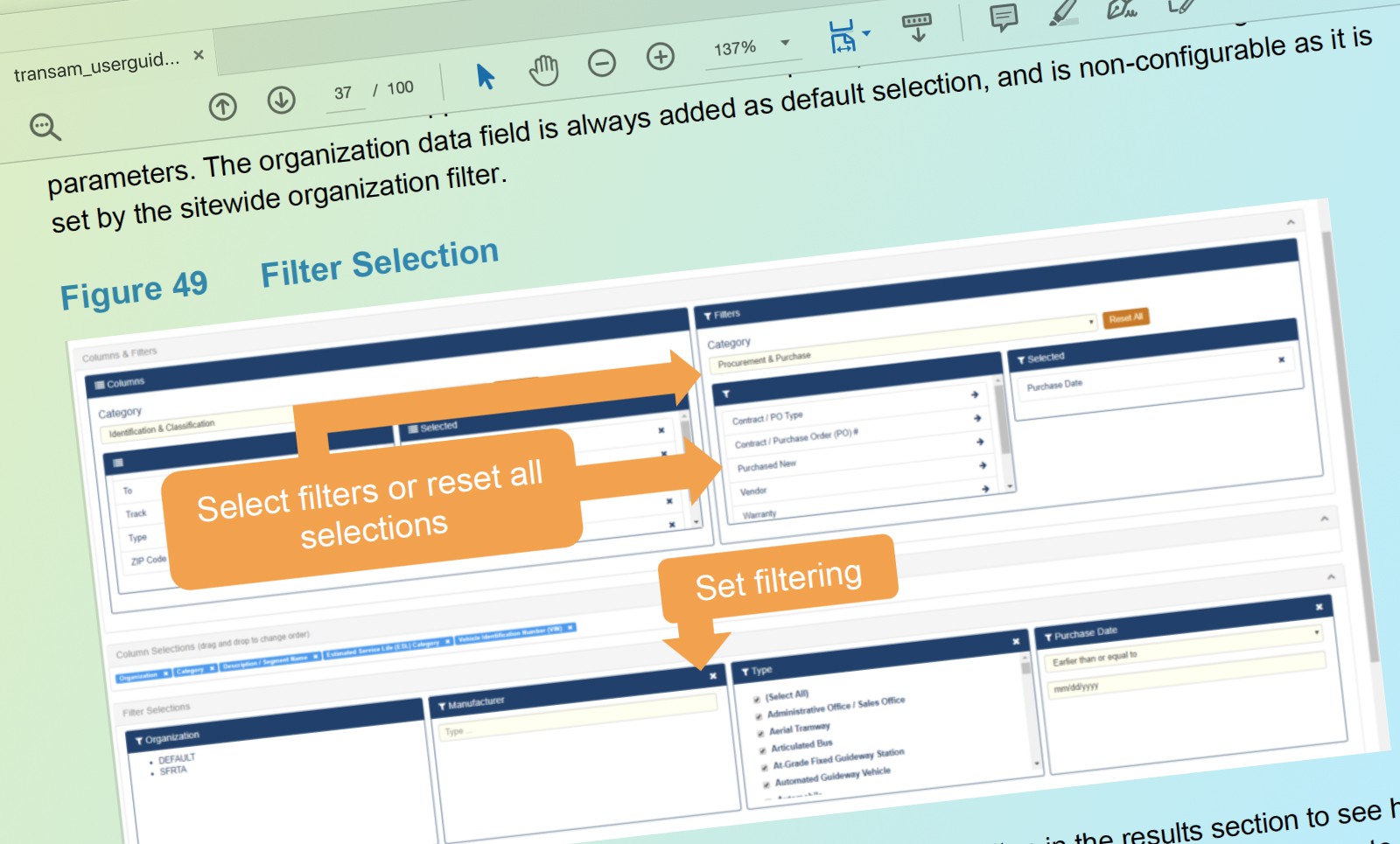 At Cambridge Systematics, we recognize that asset management can be a frustrating and complex process. That is why we continuously strive to provide asset and grant management software that is simple to operate, user-friendly, and streamlines business procedures. After receiving feedback from agencies utilizing TransAM, our TransAM team has recently taken several steps to make the TransAM platform easier to use than ever.
Our agency partners' end users were looking for a system that included clear user guides, allowing them to learn the system on their own time and in the clearest way possible. Based on this feedback, we created a 102-page comprehensive user guide for the software. It can be accessed by anyone with TransAM log in credentials and contains a search feature to enable users to quickly locate topics & feature trainings of interest. Screenshots and useful tips? Those are covered too.
In addition to this written documentation, the TransAM team has recently begun creating video learning content. These videos are short clips that each focus on the key concepts that users are most interested in learning. The combination of written and video tutorials allows users to access information in a way that most appeals to them. Below is a snippet from one of our most recent video tutorials.
The progress doesn't end with user guides. TransAM has been actively improving its user interface. These changes make the user experience more intuitive and make tasks such as finding a specific asset easier than ever. All system tables have received a complete overhaul and can now be filtered to quickly narrow down specifics assets by type, class, asset ID, and more.
Lastly, the TransAM team recognized the need for a Customer Success Manager that would serve as an immediate point of contact for end users. This provides someone to lean on for any issues and concerns, or to simply request improvements to the software. Laura O'Neill was hired earlier this year and has been working closely with each of our agency clients to educate their users on the extensive capabilities of TransAM and gain valuable feedback on improvements that can be made to improve the system on an ongoing basis
While asset management is complex, the software used to handle it shouldn't be. TransAM is dedicated to producing a quality product that can seamlessly integrated into your existing business processes to enhance performance. If you'd like to learn more about how TransAM can simplify your asset management process, please contact Reagan Lynn at rlynn@camsys.com.