In a previous post, we covered the basics of how we approach demand response trip planning at CS, and raised some issues about decisions and tradeoffs faced by transit agencies around demand response trip planning. Here, we want to consider two specific strategic questions in greater detail:  
Should demand response, or flex service, information be presented separately from fixed route information, or in an integrated fashion? 

Should trip planning take into account eligibility and funding restrictions, if applicable?  
The answer to both questions will be driven by how available software tools support an agency's customer information strategy. Many transit operators, particularly those offering parallel fixed route and ADA paratransit service, have traditionally presented separate information channels for riders. While this may be partially driven by the intuition that riders of different services in fact require different information, it has also been prompted by the gaps in the first generations of transit data standards and trip planning tools, which were heavily focused on fixed route transit.  
As riders gain access to a greater number of applications serving on-demand transportation needs, it's increasingly easy to integrate demand response information and fixed route information, with several benefits: 
While a majority of users of demand response services may only engage in a small number of commonly repeated trips (such as a trip from home to local grocery store), this is not the case for all users; even for standard trip planners, many use cases involve new riders or new trips to uncommon locations, etc. For the substantial minority of riders lacking knowledge of available flex route patterns, an integrated trip planner serves a useful trip discovery function.  

An agency may also have the goal of diverting some paratransit riders to fixed route services that are near substitutes in some cases (and cost less per rider); a trip planner that shows all options (fixed and flex) can illustrate where a rider can take either service conveniently.  

Relatedly, there can be an equity element to showing all services in one place as opposed to segmenting off paratransit services altogether, making sure that all riders are able to access the same service information. 
Finally, trip planners including demand response information can highlight itineraries that include flex-route-to-fixed  route transfers, thereby effectively expanding the transportation options available to a rider. 
Despite these advances, a service that requires eligibility or funding checks for riders will still likely require an extra step beyond simple origin-to-destination trip planning. For example, it may be especially frustrating for a rider to receive trip planning results that include an otherwise convenient transit service that is unavailable because it requires specific funding eligibility. To address this issue, CS' 1-Click app, a trip planning tool designed for use in the context of human services transportation, makes use of additional information about transportation services to find the best matches for each rider's needs. This includes information about rider eligibility characteristics (e.g. age or veteran status), eligible trip purposes (e.g. cancer treatments or grocery trips), and available mobility accommodations (e.g. wheelchair lift or door-to-door services). Using 1-Click, riders (or agents assisting riders) can provide more details about their transportation needs, and 1-Click can then properly identify available services that best meet those needs. 
Customized rider profiles means better mobility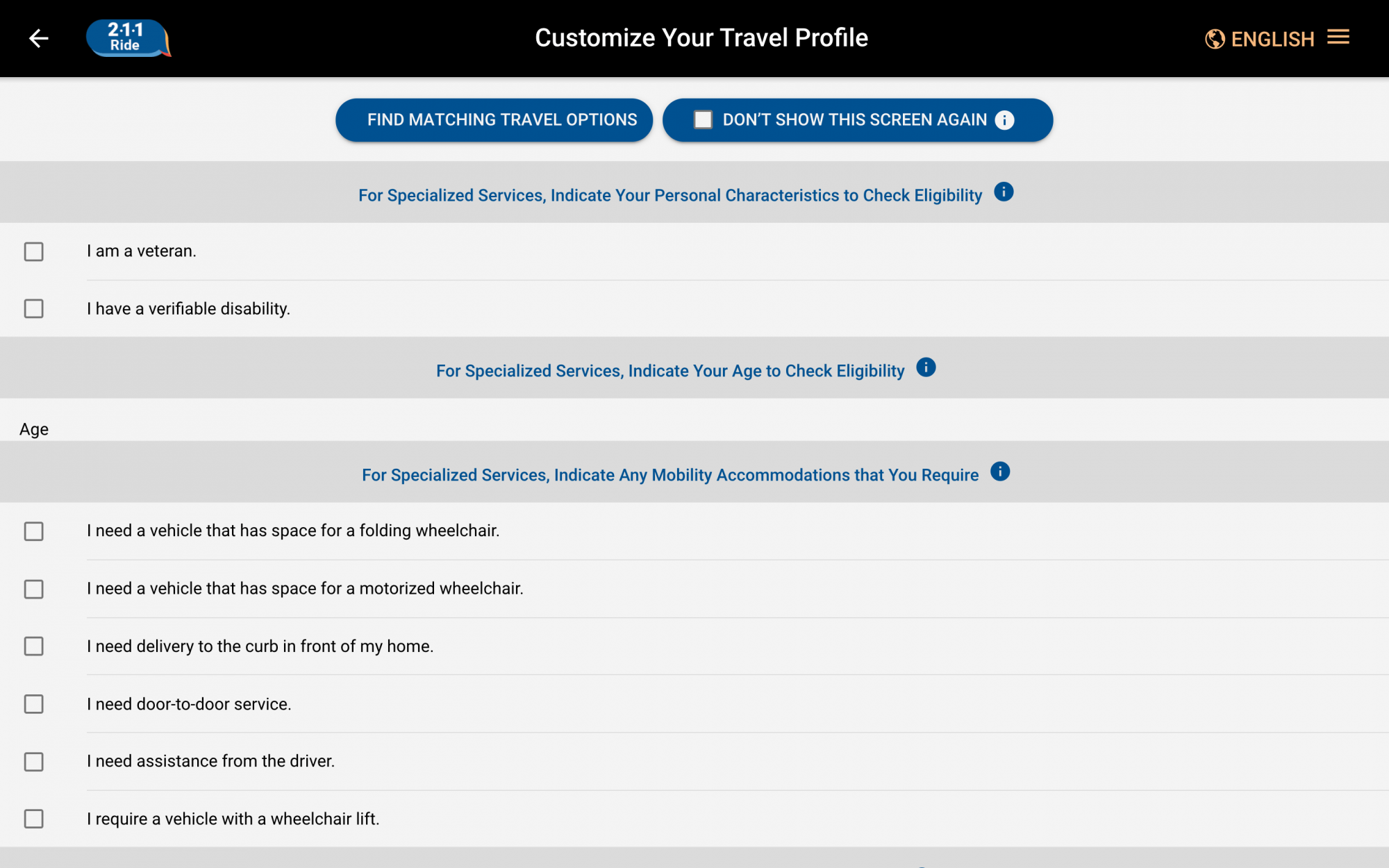 With an interest in making the current capabilities of 1-Click more broadly available, CS staff are currently participating in an effort to extend current GTFS data standards to include information about service eligibility criteria and mobility accommodations. This effort, led by Oregon DOT and Full Path and including participation of other transit agencies and industry stakeholders, will make it easier for information to be exchanged and integrated across apps and systems.  
Altogether, these building blocks help riders better explore and access the range of transportation options that are available and relevant to them, offering more integrated trip planning capabilities and setting the stage for subsequent integration with multi-modal booking and payment capabilities. 
Our next and final post in this series will reflect on contracting and project delivery tradeoffs for agencies to offer demand response trip planning to riders.